SCINTILLA 2023 (Colors of India) March 31,2023
admin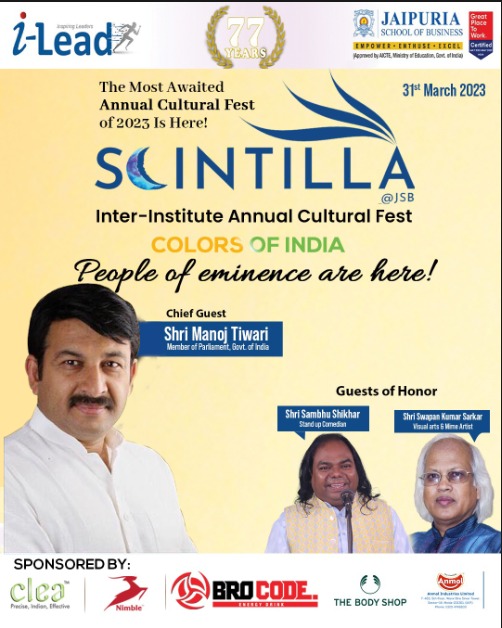 It is not late yet! Don't miss the chance to register and participate.
The Most Awaited Inter-Institute Annual Cultural Fest is here on March 31, 2023. Jaipuria School of Business is celebrating 77 years of its remarkable and phenomenal journey in providing education to youth with a purpose. On this special occasion, we are proudly hosting the glorified presence of honorable member of parliament Shri Manoj Tiwari jee as Chief Guest. Our cultural gala also will be joined by our Guests of honor, Shri Sambhu Shikhar jee, a veteran Stand –up Comedian and Shri Swapna Kumar jee, a formidable Visual Arts & Mime Artist. Their presence will enhance and motivate the spirit of participants.
The theme of this cultural fiesta is "Colors of India" fused and planned with a series of events to bring together people of talent, eminence, and repute.
Registration link: https://lnkd.in/dmchTgUW
Event date: March 31, 2023