Seth Anandram Jaipuria Group of Educational Institutions certified Great Place To Work for 2nd consecutive year
admin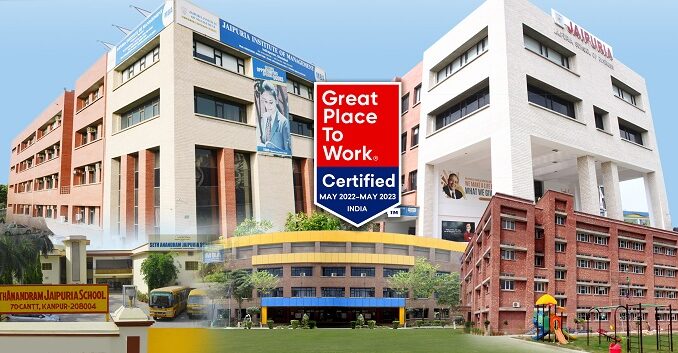 Seth Anandram Jaipuria Group of Educational Institutions, a conglomerate of K-12 schools, management institutes and preschools, has been certified Great Place To Work for the second consecutive year.
The certification is awarded by the Great Place to Work Institute, which works towards recognizing, awarding, building and sustaining High Trust High-Performance Culture at workplaces. For over 30 years, the institute has done research on different aspects and characteristics that make workplaces great. Seth Anandram Jaipuria Group was evaluated on several criteria, including leadership effectiveness, trust, innovation, values practiced by management and workforce, role of women within the organization and the ways of maximizing potential of human resources.
Shishir Jaipuria, Chairman of Seth Anandram Jaipuria Group of Educational Institutions, credited the management and workforce for getting the certification. "We are proud to receive the Great Place To Work certification for the second year in a row. The management at Seth Anandram Jaipuria Group of Educational Institutions has always been committed towards creating the most conducive work environment so that each teacher, educator and principal is empowered to work at maximum potential. We nurture trust within the organization and uphold the values that take forward our vision of providing quality education for nation-building. Going ahead, we shall continue to take further our endeavours to create the high trust and high performance culture," he said.
The Great Place To Work certification has been given to Seth Anandram Jaipuria Group of Educational Institutions for the period of May 2022 to May 2023. The group presently operates in all verticals of the education industry. It has 15 K-12 schools, 4 preschools, 2 management institutes and a teachers training academy. It has a legacy of 77 years in the field of education.
Great Place To Work Institute serves businesses, not-for-profit organizations, and government agencies in over 60 countries. It is said to cover about 10,000 organizations each year.